Welcome to Subnautica Wiki, a community-maintained encyclopedia about Unknown Worlds 2014 Subnautica and all of its related media. We currently maintain a total of 540 articles and 10,290 images since December 22nd 2014.
WARNING: This wiki contains unmarked spoilers for Subnautica and its related media. Read at your own risk!
We have forums and blogs where you can discuss almost anything.
Please read our guidelines and the to-do list for editing and behavioral standards.
Feel free to login and help contribute to our wiki by creating new pages, uploading images, or editing existing articles.
Navigation
---
| | | | | |
| --- | --- | --- | --- | --- |
| Gameplay | World | Crafting | Guides | Misc |
| | | | | |
About Subnautica
---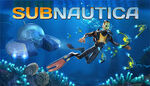 Subnautica is an underwater open world adventure game currently in development by Unknown Worlds Entertainment. Descend into the depths of an alien underwater world filled with resources, creatures, wonder and threats. Craft equipment and submarines to explore lush coral reefs, volcanoes, cave systems, and more – All while trying to survive.
Featured Article
---
The Mesmer is a defensive life form belonging to the fauna category. It can be found in deep caves of certain biomes and the Koosh Zone. The Mesmer is a small, colourful fish with three design patterns; its six large skin flaps are bluish white capable of emitting green bioluminescent glows at night, with violet stripes and are surrounded by a thin translucent blue film.
This will be a Weekly blog post posted on Fridays and Saturdays about me, Bean Can Joe, the Space Hobo.

(Please post helpful hints and instructions fo…

Read more >
---
Giveaway Items
edited by ThunderStar321 14 minutes ago
this really happened
comment by A Fandom user 15 minutes ago

| | |
| --- | --- |
| Comment: | it was obviously chuck norris |

Talk:Main/To-Do List
new comment by Wolrusthegamer 19 minutes ago

| | |
| --- | --- |
| Comment: | I personally want more fauna. |

Precursor Race
edited by BippityBop 23 minutes ago
Talk:Lifepod 5
new comment by A Fandom user 24 minutes ago
Alien Drone
edited by ThunderStar321 26 minutes ago
Killed My First Reaper
created by Wolrusthegamer 27 minutes ago

| | |
| --- | --- |
| | |
| | Good work! You deserve a cookie and bragging rights! I just had to revive this old thread, though.  |

Fauna
edited by BippityBop 29 minutes ago
What this mean??
created by Wolrusthegamer 34 minutes ago

| | |
| --- | --- |
| | Its the Warpers trying to stop the spread of the Carar Virus and the player has it.  |
| | |

Talk:Seamoth Perimeter Defense System
new comment by A Fandom user 35 minutes ago

| | |
| --- | --- |
| Comment: | Thought this thing just constantly generated an electric field that kept predators at bay.  Didn't realize I had to left click after I had selected... |
Poll
---
What would you like to see in the next update of Subanutica?
Useful Links
---
Main
Forums
Development
Social Media
Ad blocker interference detected!
Wikia is a free-to-use site that makes money from advertising. We have a modified experience for viewers using ad blockers

Wikia is not accessible if you've made further modifications. Remove the custom ad blocker rule(s) and the page will load as expected.