Welcome to Subnautica Wiki, a community-maintained encyclopedia about Unknown Worlds 2014 Subnautica and all of its related media. We currently maintain a total of 521 articles and 13,301 images since December 22nd 2014.
WARNING: This wiki contains unmarked spoilers for Subnautica and its related media. Read at your own risk!
We have forums and blogs where you can discuss almost anything.
Please read our guidelines and the to-do list for editing and behavioral standards.
Feel free to login and help contribute to our wiki by creating new pages, uploading images, or editing existing articles.
Navigation
---
| | | | | |
| --- | --- | --- | --- | --- |
| Gameplay | World | Crafting | Guides | Misc |
| | | | | |
About Subnautica
---
Subnautica is an underwater open world adventure game currently in development by Unknown Worlds Entertainment. Descend into the depths of an alien underwater world filled with resources, creatures, wonder and threats. Craft equipment and submarines to explore lush coral reefs, volcanoes, cave systems, and more – All while trying to survive.
Featured Article
---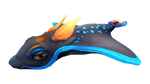 The Rabbit Ray is a peaceful fauna species found in the Safe Shallows, Kelp Forest, and Crash Zone. The Rabbit Ray is a comparatively small (though still reaching sizes larger than the player), colorful creature featuring some striking bioluminescent patterns; its two undulating wings are dark blue and outlined with a line of lighter blue bioluminescent skin, the back of the creature is spotted with glowing patches of the same color, whilst the "ears" glow a bright orange color.
Trivia: Originally it was intended for the player to have the ability to grab onto the Rabbit Ray, and use it as an early game Seaglide.
I wish I had had the presence of mind to screenshot but I had been playing Subnautica for five hours straight and was tired.  I was testing the dive …

Read more >
---
Exosuit theory/Aurora theory
created by Aku The Master of Masters 1 minute ago

| | |
| --- | --- |
| | The Aurora was planning to install a phase gate; it had a secondary mission, which was to scan for Degasi remains—it got shot down in ...  |
| | Sorry, but you are incorrect, The Aurora didn't "make" the PRAWN suit, Alterra did, as well as the Aurora, The Aurora ...  |

Talk:Reaper Leviathan
new comment by A FANDOM user 1 hour ago
Talk:Precursor Race
new comment by ThunderStar321 1 hour ago

| | |
| --- | --- |
| Comment: | The QEP is automated to shoot down any passing ships, regardless if they were infected or not. |

Talk:Enzyme 42
new comment by A FANDOM user 1 hour ago

| | |
| --- | --- |
| Comment: | maybe they all died from the carar before the cure was completed? |

Talk:Moonpool
new comment by GawainDragonsong 1 hour ago

| | |
| --- | --- |
| Comment: | To be fair, they have really optimized the game. I remember back when I first got it I could barely run it on minimum and now I'm getting 30 fps on... |

Talk:Moonpool
new comment by GawainDragonsong 1 hour ago

| | |
| --- | --- |
| Comment: | The damn sound this thing makes sounds EXACTLY like a Reaper. I built a new part on my base and the moon pool I had installed suddenly ejected my... |

Talk:Alien Vent
new comment by Guardiancraft272 1 hour ago

| | |
| --- | --- |
| Comment: | A flora and coral filled aquarium that the pipes take water from, Another aquarium, One more aquarium, Yet another, smaller aquarium, Ditto of... |

Talk:Moonpool
new comment by GawainDragonsong 1 hour ago

| | |
| --- | --- |
| Comment: | Why can't you connect it to your base? Is it like, not showing the connection between the compartment and the moon pool in the pre-build hologram?... |

Talk:Alien Relics
new comment by A FANDOM user 1 hour ago

| | |
| --- | --- |
| Comment: | "bears a striking resemblance to the yin and yang symbol"? STRIKING RESEMBLANCE?!?!?!?!? IT LOOKS JUST LIKE IT! I DONT THINK THAT QUALIFIES AS... |

Talk:Precursor Race
new comment by A FANDOM user 1 hour ago

| | |
| --- | --- |
| Comment: | wait. they set it up to contain the carar? so why did it shoot the aurora? maybe someone on the aurora had the carar? |
Useful Links
---
Main
Forums
Development
Social Media