This seems new


This article contains information that is updated for the latest Experimental Version of Subnautica. Players using stable mode may find this information inaccurate.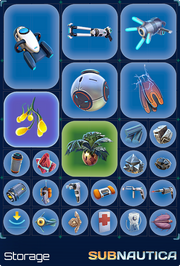 Storage commonly refers to containers in which items can be stored. All items occupy a number of inventory slots in a square or rectangle shape. Small items like Titanium and Lithium occupy only one slot in storage, while large items like the Waterproof Locker can occupy up to nine slots in storage. A Reefback that was grown in the Alien Containment will take up sixteen slots in storage.
In the beginning, the player only has their own inventory, which can be accessed by using the PDA, and the storage unit inside Lifepod 5. As the player progresses through the game, they will gain access to various other containers that they can craft, in which to store items.
Types of storage