The Skyray is a small, passive fauna species. It can be found flying around over the water or in locations with large landmasses on the whole map such as the Aurora, or the Floating Island and Mountain Island.
Appearance
The Skyray is a small, avian creature having two wings covered with white feathers. Its head, chest and wing tips are black, connected by a thin line spanning the front edge of its wings.
The head has two small, completely white eyes situated on each side, and a black beak.
The Skyray's body ends with a small, black tip in-between its short legs. Its chest bears blue and green bioluminescent markings.
Behavior
Skyrays tend to congregate in small groups, often seen flying around Lifepod 5 , the Aurora, and the Islands.
Skyrays can be seen resting on the ground on the Mountain Island and the Floater Island, taking off upon being approached.
Audio
Data Bank Entry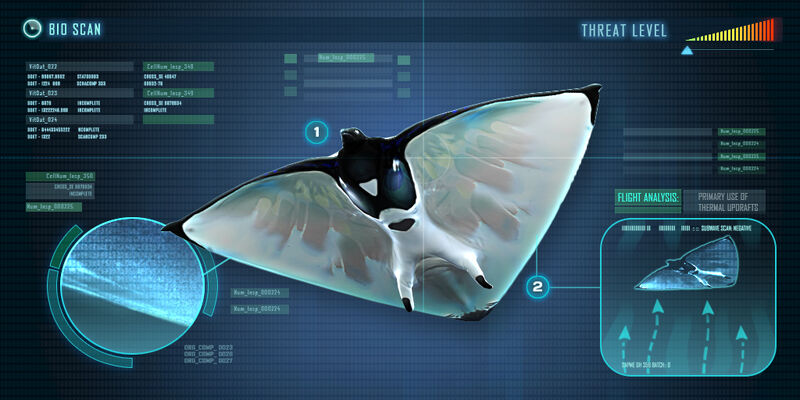 The skyray has a bird-like head, and feathered wings which enable it to fly.
Wings suggest some evolutionary connection with water-borne rays, however their last common ancestor would have borne little resemblance to either
Skyrays are commonly found circling floating structures, and rarely venture far out to sea
They will perch on dry land, but are prone to flee on approach
Diet is likely seed-based
Assessment: Presence may indicate nearby dry land.
Gallery
Trivia
The Skyray is currently the only fauna capable of flight.
Skyrays will drown underwater, and this includes manually spawning one inside a Seabase using Debug Console Commands.
Despite having a Databank entry, Skyrays are not yet scannable in game. 
Aside from Cave Crawlers and Blood Crawlers, Skyrays are one of the few Fauna to be able to survive on land and outside of water.
Some concept art shows a larger, bird-like creature with a long tail. This creature along with normal Skyrays can be seen in the cinematic trailer.
If you stand on it, you will be able to "fly".