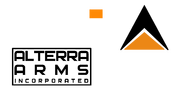 The Alterra Corporation, or simply Alterra, is a Trans-Gov that funded the Aurora's mission. Alterra sent the Aurora to set up phasegates to another solar system. It also appears to be the manufacturer of many machines and tools in-game. The Alterra symbol can also be seen on the bottom of the Sunbeam.
Appearances
Edit
The Alterra logo can be seen on, but is not limited to: 
The Alterra logo can be seen on numerous objects in the game, such as the Survival Knife and Picture Frame, and the Computer Chip.
Alterra is taken from another game made by Unknown Worlds, Natural Selection, in which Alterra is a company that supplies various materials.
Ad blocker interference detected!
Wikia is a free-to-use site that makes money from advertising. We have a modified experience for viewers using ad blockers

Wikia is not accessible if you've made further modifications. Remove the custom ad blocker rule(s) and the page will load as expected.